New York Times Bestselling author, popular speaker, and speaker coach
Choosing Donald Trump was released in paperback on November 20th. This book answers the questions, "Why are most evangelicals so loyal to Trump? And what role should evangelicals play in the hard-hitting Trump presidency?" If you haven't read this vital book, get it now!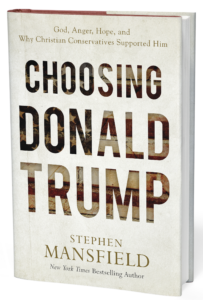 Latest from @MansfieldWrites
Leading Thoughts
Stephen Mansfield
I want to write to you about an immensely important part of your leadership. I also have to offer an apology. The apology is due because I haven't addressed this aspect of your skill set enough, and I haven't done it because it is within a field my firm specializes [read more]
Subscribe to Leading Thoughts
Stephen was interviewed by Dan Rather in 2007 about the separation of church and state and, specifically, the role of faith on the battlefield.