New York Times Bestselling author, popular speaker, and speaker coach
Choosing Donald Trump will be released in paperback on November 20th. What role will President Trump play in the midterm elections? What will the election tell us about evangelical support for Donald Trump? If you haven't read this vital book, get it now!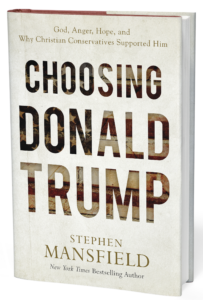 Latest from @MansfieldWrites
Leading Thoughts
Stephen Mansfield
Let me do something I don't often do and dip into the headlines a bit for this Leading Thoughts. We all know that we are living through what has been called the #MeToo Moment. Because some prominent women have been courageous to speak out and because some prominent men have [read more]
Subscribe to Leading Thoughts
In 2012, Stephen wrote a seminal book on the faith of our most beloved president, Abraham Lincoln. Scholars praised Stephen's historical accuracy and his inspirational writing. In this video, he describes why Abraham Lincoln's religious journey is so vital today.