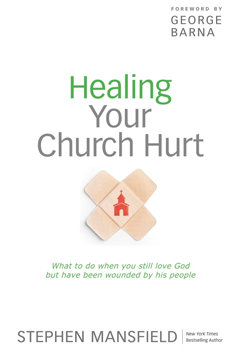 Healing Your Church Hurt
Years ago, I went through an unnecessary, agonizing, humiliating experience with a church. And I had been the senior pastor of that church!
Along the way, a few friends urged me to keep track of the lessons I learned—about myself, about how churches work, about the people who make such experiences worse, and about how to go through such times if you must.
I did. The pages of this book are filled with truths about how we set ourselves up for disappointment with churches, how to forgive, what we have to fix in ourselves, and, ultimately, why we need the local church.
I think it is a victory story—yet like all victory stories it comes on the other side of pain. Come on! Jump in. Let's get healed together.
"(Stephen's) words provide a dose of tough love for all of us: both those who have been hurt and those who have inflicted the hurt. He will encourage you to not simply run from the experience, rewrite it, or contract amnesia regarding the relevant difficulties. Instead, he'll help you dive deep within your heart, mind, and soul to ascertain the best way for you to handle your own pain and doubt." – George Barna